It's time. In fact, it's long past time. It's been time to seriously evaluate how well we are engaging customers through digital channels since long before we closed all our stores. But most of our stores are in fact closed now, and as a result, many more people are spending much more time on our websites. Which makes right now the perfect time to begin building content programs that foster the digital communities that people are so eagerly seeking.
Many retailers – particularly those pesky DNVBs (Digitally Native Vertical Brands) – have been effectively nurturing digital communities for quite some time. And to great effect. They have created a sustainable base of engaged, passionate customers who come to their communities for camaraderie and fellowship. And, oh yeah, to buy stuff. The value of engaged digital communities has long been proven by the likes of Glossier, Lululemon and LEGO, to name a few.
Others who have - until now - neglected digital community-building programs are quickly trying to design content and experiences that engage all those new online visitors. The (somewhat) good news is that there is plenty of help available. Unfortunately, there are thousands of furloughed or underutilized web designers, content creators and marketing professionals ready to get to work to help you create digital programs. Finding good help may never again be as easy, or affordable, as it is right now.
But do not be confused: This is not just a "right now" investment. The investments in digital communities you make today will pay dividends for years to come. I am convinced that digital connections will be a big part of our new reality long after the pandemic eases. They have actually been part of our reality for a long time, but they have recently become, for all intents and purposes, essential to the long-term health of our brands.
We just have to act. Now. We have to make the time, in the midst of everything else that is happening, to – once and for all – up our digital game.
I recently co-hosted a webinar with Alicia Esposito of Retail TouchPoints that I think might help you develop a digital community game plan. During our conversation, Alicia laid out a three-part framework for bringing digital communities to life. Although engaged and devoted communities can't be built overnight, Alicia's tips can definitely help you get started:
1. Give the People What They Want
Building community first requires being relevant to your audience, which may not be as easy now as it was even a few weeks ago. However, if you aren't sure what people want right now, just ask them. Simply asking your customers what type of content they want to see will provide you with the insights you need to begin shaping your content strategy – both during and after the COVID-19 crisis.
Alicia suggests surveying customers via email, or perhaps taking a cue from One Kings Lane and asking your audience directly via social media. The luxury furniture and home décor company asked its Instagram followers what type of content they wanted to see during the pandemic, and its fans spoke loudly and clearly: They wanted content that helped to elevate their spirits – and living quarters – during the pandemic. Armed with that feedback, One Kings Lane quickly adapted its content strategy to focus on ways people could optimize their homes during the quarantine. They included suggestions for entertaining virtually and for designing rooms that look great on video conferences, and even offered photos that could be used as backgrounds on Zoom calls to make video conferences "a bit chicer."
View this post on Instagram
In addition to asking your community what type of content they want to see, Alicia recommends asking how they are doing or how your company can help during the crisis. This open-ended feedback can prove valuable in many ways. This approach may feel very direct, but that's the point, isn't it?
2. Build Your Content Library
There's no such thing as too much content (as long as it is quality content). And digital communities are hungry for content right now. So it's important to have a plan in place to build up – and replenish – your content library. Alicia recommends creating blog posts, photo galleries, social posts, videos and anything else you can put together to engage your audience. Look for new sources of content as well, to help feed the pipeline – including store associates. Keep in mind that this content should be hosted in numerous places – from Twitter and Instagram to your website.
An excellent example of a robust – and frequently replenished – content library comes from the "queen of digital engagement" herself, Kim Kardashian West. And I don't mean her personal Instagram. Skims (Kim's shapewear brand) dedicates a section of its website to a diverse range of video content. Dubbed "Skims TV," this engaging and educational content helps consumers learn more about Skims merchandise by showcasing tutorials, collection overviews and tips for how to choose the right product. This rich content helps customers feel more confident when making a purchase – especially for products they are unable to touch or try on.
[caption id="attachment_19281" align="alignnone" width="700"]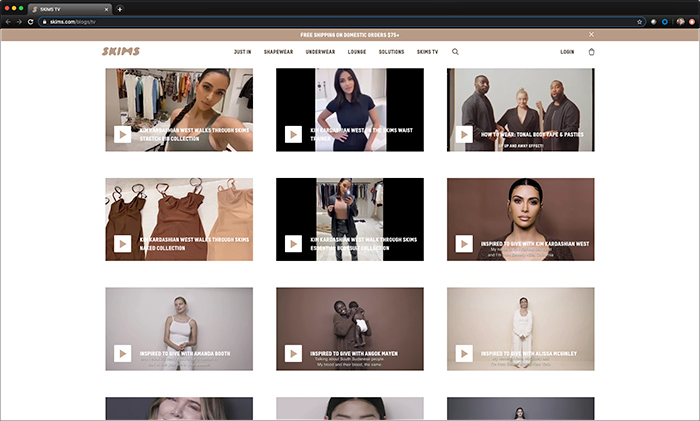 An example of a video library on the Skims website.[/caption]
Another example of taking community engagement to a new level comes from LEGO, as they encourage Master Builders to design, create and show off their custom LEGO creations. They even offer these superfans the chance to have their creations become products on retail shelves. Their content includes contests, challenges and of course showcases, all of which keep this community of fans engaged with each other and the products.
3. Don't Be Afraid to Test and Learn
Glossier is an example of a brand that was built from an engaged and zealous community fueled by content. Company founder and CEO Emily Weiss started in 2010 with a beauty website called Into The Gloss, and its success paved the way for modern beauty brand Glossier to launch in 2014.
As the COVID-19 crisis unfolded, Glossier momentarily pivoted from its typical social content to post a letter from Weiss describing the company's plan of action. The post was open and transparent, and it received positive feedback from the brand's community, which then allowed the brand to quickly move back to delivering the beauty content that its digital community has come to expect.
Glossier also decided to take this time to test a new customer service tool for its digital community. The tool, called Glossier Live Edit, allows customers to have a virtual makeup consultation with a Glossier team member. The initial test kicked off with 150 appointments that were each 15 minutes long. Although this tool is not yet a permanent feature on the site, the testing period is sure to provide insights that will allow the team to optimize the feature before a full rollout in the future – which may be a future that depends a lot more on digital customer service.
Even if you don't have something like a new customer service tool to test, Alicia suggests you try testing other initiatives that are quick to implement and quick to engage. An Instagram Live Q&A session, for example, can be used to highlight your staff's expertise. If successful, it could even end up becoming a regular part of your content initiatives.
Time to Get Started
These are just a few ways to begin growing your digital community while your storefronts are closed. These ideas may not be relevant to your customer, and relevance is critical to building sustained communities. So if you aren't sure what they want or need, as Alicia says, just ask them. But regardless of what your content strategy ultimately becomes, there is one thing you can be sure about: no matter when this crisis begins to subside or when your stores begin to reopen, an investment in digital community-building now is an investment in a future spent more closely connected with your customers.
And it's always a good time for that.
Editor's Note: To view more examples of digital community strategies, watch episode three of our Collaborative Conversations series, Digital Community: Go Big (While We All) Go Home. Visit our Collaborative Conversations about Coronavirus resource page to view this broadcast as well as to sign up for and participate in future broadcasts.