I am now six days home from Aptos Engage 2017, and slowly, ever so slowly, I am finally beginning to feel human again. At my age, recovering from the effort required to help plan, produce and participate in a user conference takes a bit longer than it did in my younger days. However, as I begin to regain my strength after last week, I can now take stock of the event. And as I look back, a few key takeaways have begun to emerge…
Despite Many Daunting Challenges, Retailers are Decidedly Optimistic
With bad retail news coming from seemingly everywhere, it would not have surprised me if our clients were dejected and disheartened.
I was expecting to encounter – at minimum – worry and anxiety. Instead, I found unabashed optimism and a spirit of resiliency.
Yes, there are challenges – severe, game-changing challenges – but these retailers are clearly up to the task.
The vast majority of retailers that came to Aptos Engage were genuinely excited by the opportunity to reinvent retail. I heard countless examples of retailers finding new ways to restore the relevance of the integrated experience that not only includes, but embraces a new role for the store. They are undaunted by the challenges that Amazon represents, and they took advantage of every opportunity the conference presented to share ideas and success stories with each other.
[caption id="attachment_6980" align="aligncenter" width="900"]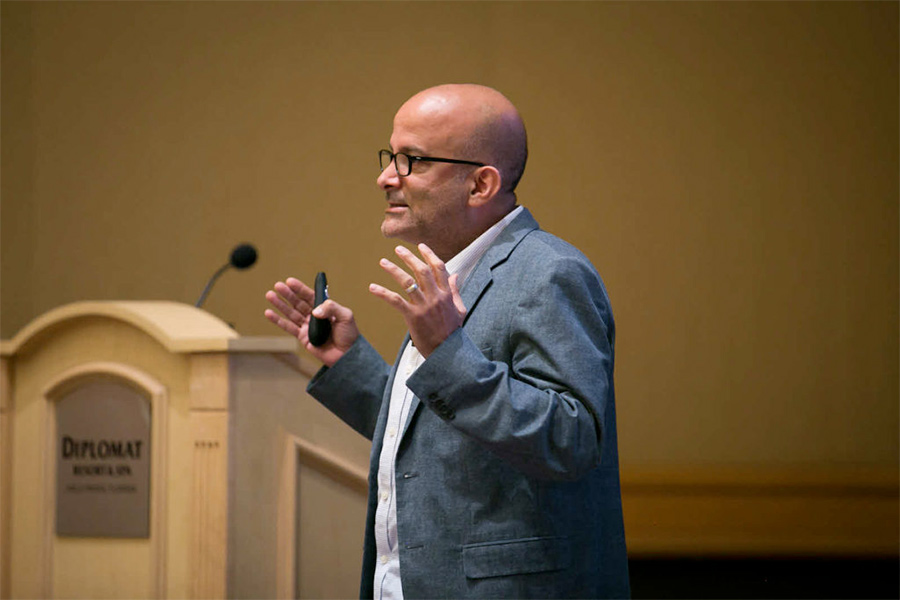 Windsor Store CEO Leon Zekaria shares his company's incredible growth story.[/caption]
Attendees also eagerly embraced our first-ever structured networking session, which gave them all the opportunity to connect 1:1 with Aptos experts, peers and thought leaders to discuss new ideas, opportunities and solutions.
[caption id="attachment_6989" align="aligncenter" width="900"]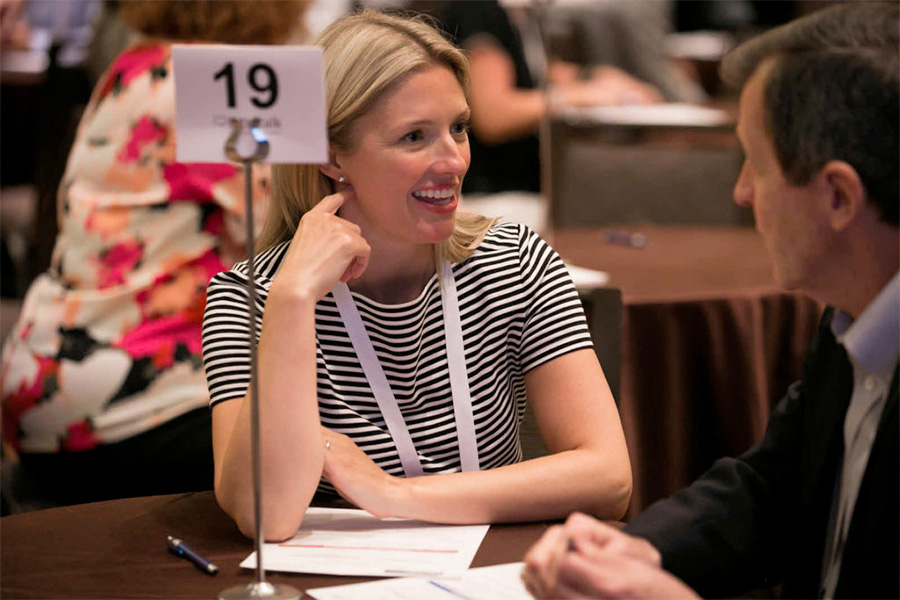 Aptos' Sarah Roberts discusses news from Aptos Labs with a client during 1:1 networking.[/caption]
During his keynote presentation, Doug Stephens (aka "the Retail Prophet") tapped into their eagerness for reinventing retail with his enthusiasm for completely rethinking how we define the store. He even cited a Forbes article written by RSR managing partner Paula Rosenblum, who unbeknownst to Doug, was attending the event. Paula's article, "Five Reasons Why 'The Retail Apocalypse' is a False Scare Story" perfectly captures the sentiment of Aptos Engage: sure times may be tough, but we can tackle this. Bring. It. On.
[caption id="attachment_6974" align="aligncenter" width="900"]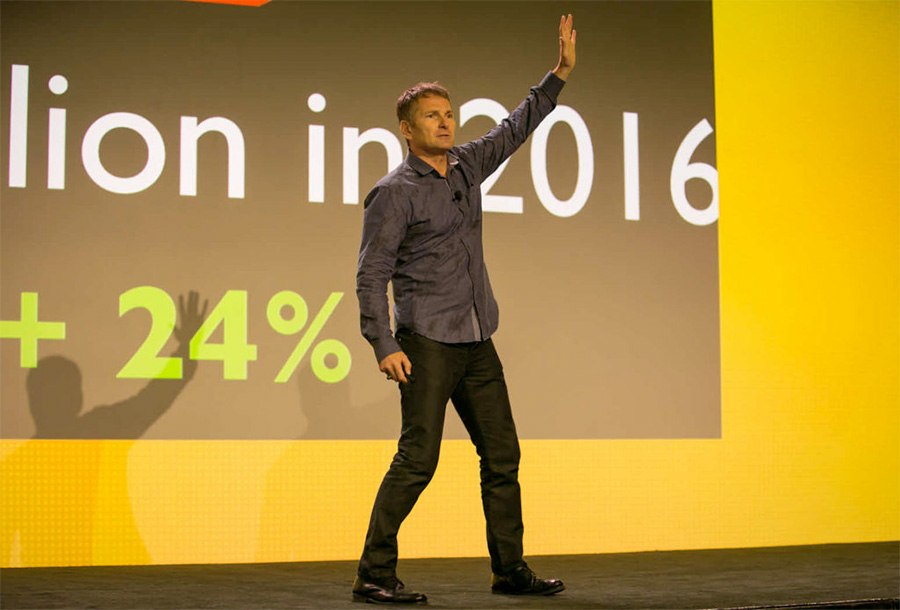 Doug Stephens shares his vision for re-engineering retail.[/caption]
Retailers Understand that Innovation will Enable Reinvention
A good portion of retailers' unbridled enthusiasm, I believe, stems from the rapid pace at which retail technology is evolving. Throughout the conference, attendees had opportunities to see how technology can enable the coming reinvention. They witnessed how quickly and efficiently technology can be deployed to significantly impact the way they engage shoppers.
New releases of Aptos solutions were greeted with real excitement. Partner stations in the Solution Zone were buzzing with new options and offerings, and the response to our "Innovators Shark Tank" was unanimously enthusiastic. The CEO's of Radius8, Salesfloor, TruRating and WorkJam all entered the Shark Tank to describe how their solutions can complement the Aptos platform to impact experiences, and TruRating emerged from the tank victorious.
[caption id="attachment_6977" align="aligncenter" width="900"]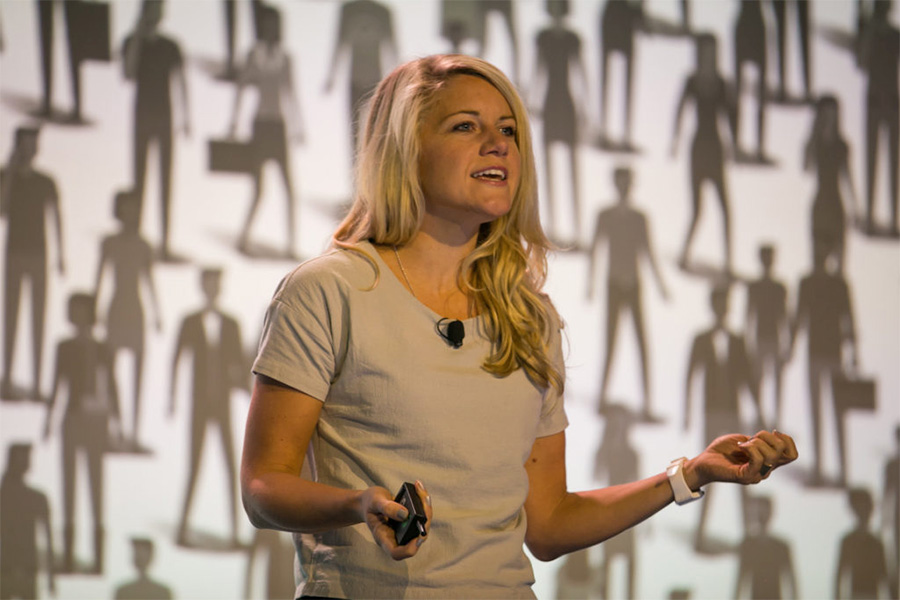 Georgina Nelson, CEO of TruRating, enters the Shark Tank.[/caption]
Perhaps most impactful was the introduction of Aptos Labs, our dedicated innovation development team that is developing a cloud-native, mobile-first and unified commerce services platform to help retailers create enterprises built for rapid and relentless change.
[caption id="attachment_6986" align="aligncenter" width="900"]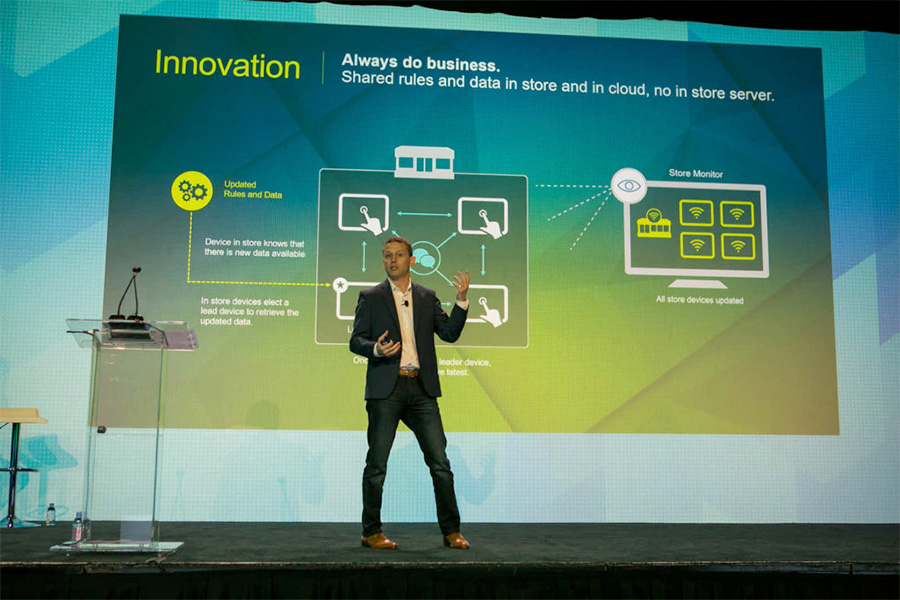 Aptos CTO Mike Verdeyen shares his vision - and passion - for Aptos Labs.[/caption]
Nikki Baird, Managing Partner for Retail Systems Research thinks Aptos Labs has the potential to make a difference for our clients as they tackle the challenges that tomorrow will inevitably hold:
"The company is investing not just to stay modern, but to help its customers stay ahead of the future – an omni-channel future that for many feels like it's bearing down on them like a tsunami. And what I saw at Aptos Engage was a community of customers, engaged in a partnership, ready to embrace that future together. In an age of instant gratification and next quarter's performance, that was impressive to see."
Aptos Engage Proves that Giving Back is the New Black
Finally, I was heartened by the response to our community outreach efforts. Embracing and supporting our community is embedded into our culture at Aptos, and throughout Engage we saw just how much our customers and partners have also embraced that commitment. Thirty-five companies donated items to a silent auction that raised $12,500 for RetailROI. With a RetailROI charity partner, Lifesong for Orphans, having a donor agreeing to match donations, the total donations from Engage amounted to an astounding $25k.
As the event got underway, Tommy Bahama announced that they will dedicate their entire 2017 apparel charity donation to RetailROI, earmarked for the community of Bercy in Haiti.
[caption id="attachment_6983" align="aligncenter" width="900"]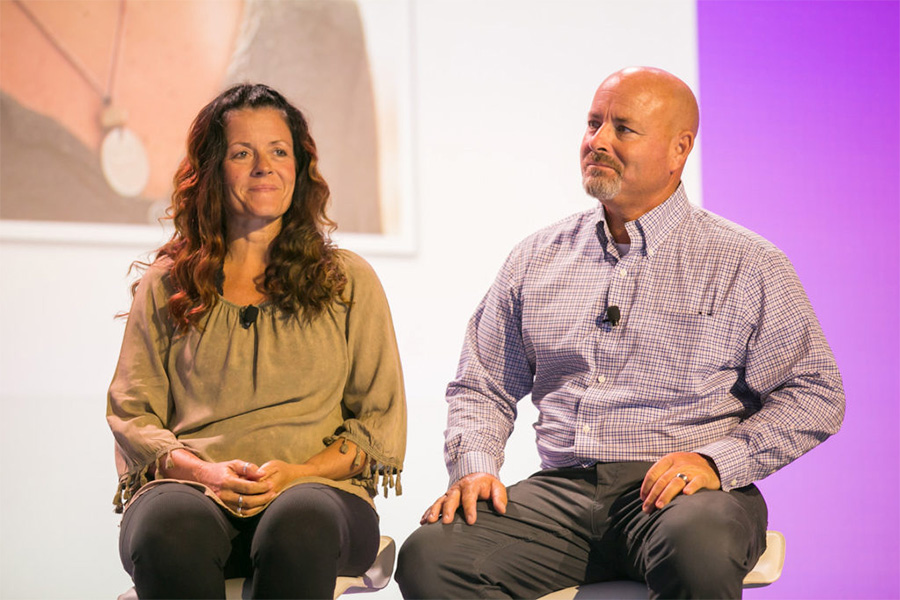 Mike and Amy Rivas of LifeSong for Orphans share stories of their remarkable progress in Bercy, Haiti.[/caption]
One year ago at Aptos Engage 2016, Aptos announced its long-term commitment to improving the lives of vulnerable children in Bercy. During this year's Engage conference, we shared the incredible progress that has been made since then.
In just twelve short months, as Mike and Amy Rivas of Lifesong for Orphans told the Engage crowd, they have built nine residences, a computer lab, two classrooms, a sustainable plantain farm, and a hotel.
Together with our partners and clients, we have now raised over $80,000 for RetailROI since Aptos was launched in 2015, and we can't wait to see what happens next in Bercy.
All in all, it was an encouraging and inspiring week. And believe it or not, we are already thinking of ways to improve and expand for next year.
Aptos Engage 2018 takes place in just 339 days in Las Vegas. We can't wait to see you there.