As consumers, the Age of eCommerce has certainly brought many good things to our lives: unprecedented convenience, lower prices (and greater price transparency), and virtually unlimited choice. And, by and large, we have responded by investing an ever-growing share of our wallets in online channels.
However, internet shopping is not exempt from the law of unintended consequences. One of the unintended consequences of online shopping's limitless flexibility and choice is the commodification of virtually everything in retail as we know it, from assortments to experiences. Self-expression has become ever more difficult in our increasingly commoditized world.
Struggling to Stand Apart
Unsurprisingly, retailers have struggled to stand apart from the crowd with assortments that allow their customers to, well, stand apart from the crowd. In an ironic twist, many shoppers actually feel starved for choice in this world of limitless choice.
Which may help explain why the New York Times labeled 2017 "The Year of the Drop."
As in, product drop. As in Kanye West's Yeezy, Supreme's always limited-edition skatewear and ASAP Bari's VLONE.  These designers have made an art form of dropping new releases of their brands into high-profile retail stores (or branded pop-up stores) with limited advance notice, limited inventory and virtually unlimited hype. Shoppers, spurred by the lure of scarcity and unique self-expression, line up well in advance of the scheduled drop. And, typically, the products typically sell out very quickly.
Dropping in on the High Street
These product drops – while often staggeringly popular – have until recently been mostly confined to sneaker and streetwear categories. Lately, however, we have seen drops from an expanding array of categories and brands up and down the high street. Celebrity designers like Kylie Jenner and Alexander Wang have joined retailers like H&M and Target in deploying product drop promotions.
And now, even venerable luxury brands like Louis Vuitton and Barney's have entered the product drop zeitgeist.
[caption id="attachment_9548" align="aligncenter" width="560"]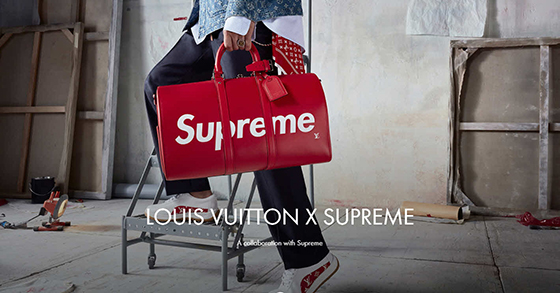 Louis Vuitton's 2017 Collaboration with Supreme (including this $6,000 duffle) fueled numerous wildly popular drops around the world.[/caption]
Amidst all the hype surrounding this "drop culture," the news of Barney's product drops stands out to me. Because if Barney's – not the first place that I think of for sneakers and streetwear – is investing in product drops, then maybe I should pay attention. To date I have considered drops merely a passing fad popular only with a small segment of young consumers. But the Barney's drop gives me pause.
Barney's Goes Big on Product Drops
Barney's initial foray into the world of drops is, in a word, significant. Produced and promoted in partnership with streetwear publication Highsnobiety, "thedrop@barneys," is a two-day event produced at their Madison Avenue flagship location last weekend. The drop highlighted 30 exclusive capsule collection and product drops, featuring works from 80 designers and vendors.
[caption id="attachment_9544" align="aligncenter" width="560"]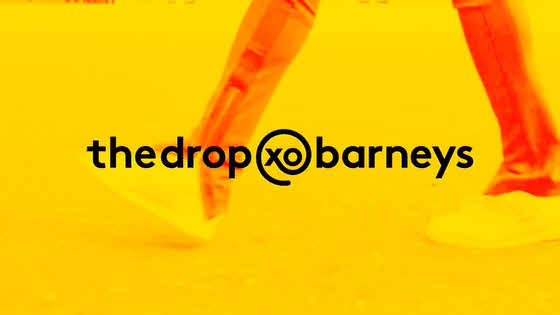 A scene from a promotional video released to drive registration for thedrop@Barneys[/caption]
Drop-related activities were everywhere, on every floor at almost every hour of the day. Several of the drop designers made appearances. There was lots of food, and there were concerts, product customization opportunities and even celebrity tattoo artists.
Preparing for a New Age of Individualism
Was it successful?  The results speak for themselves:
People turned out.  They lined up to purchase on every floor of the store. And they engaged with each other and the brands.
[caption id="attachment_9561" align="aligncenter" width="560"]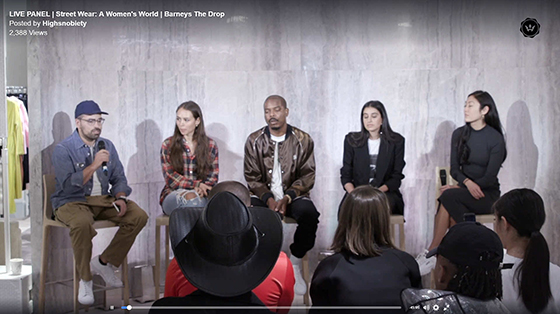 A scene from a Facebook Live broadcast as designers, editors and Barneys Buyers discuss the latest collections to drop this past weekend at Barney's Madison avenue store product drop promotion[/caption]
I believe the wild popularity of product drops, and particularly the investment in and success of the drop event at Barney's, represents the ushering in of a new age for retail. An age where commoditized retail takes a back seat to self-expression and where individuality matters. An age where communal experiences matter...an age where the store matters.
Through their eager participation in this drop culture, consumers (in particular young consumers – the future of retail) are expressing their desire for both products and experiences that relate to their sense of self. They are flocking to opportunities to be different, to stand apart from the crowd, and to do so through shared experiences among like-minded people.
So yes, the future of retail excites me. And I can't wait to see just how this new age of individualism will (pardon the pun) express itself.
And you know, at age 53, I never thought I would say this, but bring on the next Yeezy, Kanye!