Last year, Aptos announced the opening of its innovation center in Bengaluru and its plans to employ 200+ colleagues in India. Opening a new office and hiring several hundred employees is no easy feat – especially when that office is in one of the world's most sought-after cities for technology talent.
In the Q&A below, Prashant Kamat, VP and Managing Director of Aptos India, provides an update on Aptos' growth journey in India, how Aptos has been able to make its employment opportunities stand out in a competitive labor market and how the team in India has become a critical element in advancing Aptos' unified commerce vision.
Q: Describe Aptos' current presence in India and its path to reach 200 colleagues in Bengaluru.
Prashant Kamat: Aptos' India entity was established in late 2021, and our state-of-the-art facility in Bengaluru opened in July 2022. We now have 200+ employees in India, with those employees' roles and responsibilities spanning the gamut of functions – from product development and professional services to customer support and cloud operations to HR and administration. These employees support both the Aptos unified commerce and Revionics price optimization business units.
When we first launched our innovation center in Bengaluru, our goal was to reach the 200-colleague milestone by the end of 2022. It took us slightly longer for two reasons – one being the market for technology talent in Bengaluru is extremely competitive, and the other being that we chose to be highly selective in hiring individuals who have deep skills in the cutting-edge technologies that Aptos focuses on. We also wanted to make sure prospective colleagues were the right fit from a cultural alignment standpoint.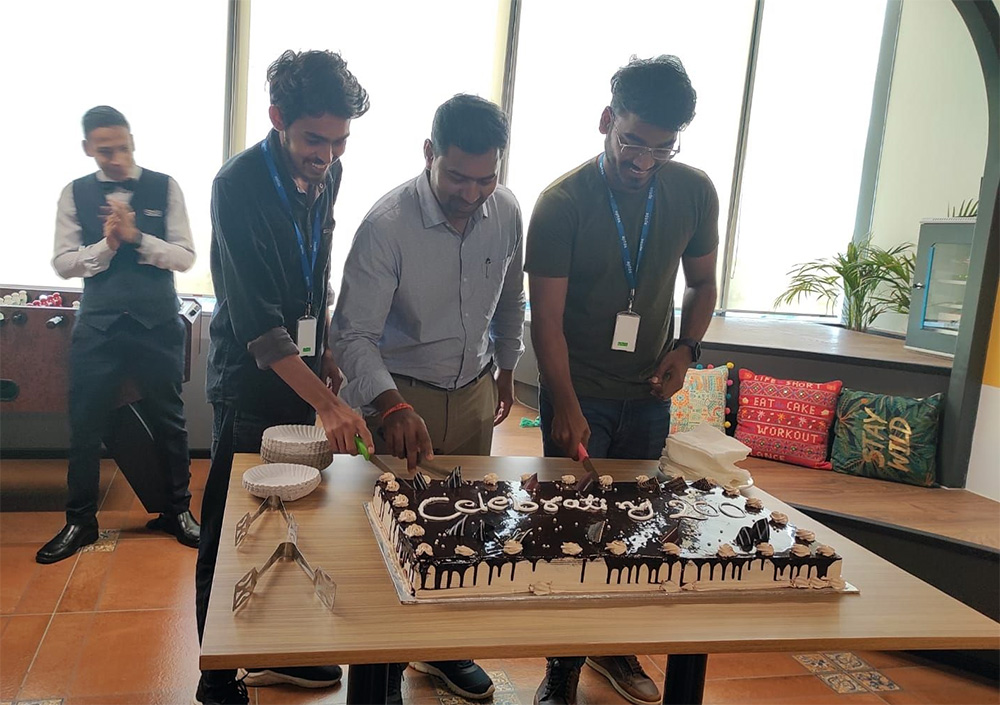 Aptos' Sree Preetham, Aman Jakhar and Saravanan T cut a cake to celebrate the recent 200th colleague milestone.
Q: Before launching Aptos India, Aptos began its investment in India primarily through partnerships. What do you think have been the benefits of Aptos establishing its own India-based operations versus leveraging a partner model?
PK: Aptos' entry into India through partnerships was the right first step to tap into India's vibrant ecosystem of highly skilled software talent. However, as an organization with clients, colleagues and offices around the world, it was a natural extension for Aptos to open its own innovation center in India. The benefits of doing so have been significant.
Our Aptos India colleagues are now fully and seamlessly integrated with corresponding global functional teams across Aptos. The shift from a partner model to direct operations has resulted in improved productivity and efficiency and materially increased employee engagement and satisfaction in India.
Aptos India colleagues know they are part of something larger than themselves, and they can see their impact daily. They also enjoy the confidence that comes from being employed at one of the largest technology providers in retail – a company that has put down roots in India and is committed for the long haul.
Today at Aptos, a lot of innovation and ownership of key initiatives comes out of India, which wouldn't necessarily be the case if we were still operating a partner-based model. And that's something we are very proud of.
Q: Hiring 200+ employees is impressive, and even more so given that competition for talent in Bengaluru is fierce. Knowing that Aptos is competing with some of the world's largest technology companies, how did your team make Aptos stand out when talking with prospective employees?
PK: Given Aptos' recent entry into India, our brand recognition wasn't as strong as other large technology companies, which put us at a disadvantage when recruiting.
To overcome this, we emphasized what set us apart. One of those differentiators was around innovation: the ability for our employees to spend their days doing groundbreaking work and tapping into the power of cloud-native and mobile-first technologies, data science and machine learning algorithms, microservices-based architectures, etc.
Our growth in India is an investment in the future and is helping Aptos go faster in disrupting and redefining the retail technology landscape. That's attractive to employees. It's energizing, and there's a lot of allure with high performers who want to be on the ground floor of that.
We have also put a lot of thought and resources into creating a positive and nurturing workplace culture. It is an environment where colleagues feel empowered to do their best, and collaboration and respect are prioritized over competition and rigor.
In a tight labor market, skilled technology employees have a lot of options. It's on us, as an employer, to figure out what will persuade an employee to choose Aptos – not just initially, but long term.
Q: You mentioned culture. Related to that, how would you describe the workplace culture in Aptos' Bengaluru office? How has leadership facilitated camaraderie among colleagues?
PK: Our workplace vibe is best described as informal, focused, energizing and fun.
I always think of these insights that Andrew Laudato, author of the book Fostering Innovation: How to Build an Amazing IT Team, shared when speaking at an Aptos event: "Companies don't innovate; people do. People won't innovate if they don't feel safe."
Innovation is central to our success. And innovation doesn't happen without the right environment; therefore, concentrating on this area is hugely important.
We start by making sure each colleague understands our corporate vision, strategy and objectives; this ensures all colleagues are working toward the same goals. This alignment, coupled with an uncompromising focus on quality and excellence, helps everyone achieve more than they think they can and ultimately helps our customers succeed.
It's a very fulfilling experience for our colleagues to know that they're playing a role in the success of our global clients – esteemed brands like Coach, Crocs, New Balance, Skechers and hundreds of others.
If innovation and achievement are core to our culture, so is fun and fostering camaraderie. We've hosted numerous events for colleagues, such as family days, holiday celebrations, yoga practices and workshops on relevant topics such as female leadership.
Everything we do, from a colleague's first interaction with Aptos to onboarding and beyond, strives to bring to life Aptos' Commitments, a cultural framework designed to inform and guide our behaviors.
We also embrace our CEO Pete Sinisgalli's tagline – Every Colleague. Every Customer. Every Day! We believe that if we deliver value to our customers and create an environment that allows our employees to grow and develop, we are going to meet our goals.
We are seeing the real-world benefits of emphasizing culture throughout our business, including HR metrics such as low attrition and high colleague engagement.
Q: With the 200-colleague milestone reached, what's next for Aptos India?
PK: Aptos' mission is to be the leading global provider of unified commerce solutions. With numerous studies showing the vast majority of all software spending in retail is now centered on unified commerce, our entire organization is rowing in the same direction to capitalize on the opportunities in front of us.
How do we do that as a company? By continuing to prioritize the progression of product roadmaps, delivery quality, product innovation and customer satisfaction.
With Aptos India playing a key role in each of these areas, the future is bright for Aptos in Bengaluru.
In the fiscal year ahead, we'll keep focusing on talent recruitment, increasing investment in learning and development opportunities for colleagues and staying at the forefront in adopting a flexible, supportive work environment that encourages colleagues to achieve beyond their expectations.
To explore career opportunities at Aptos, please visit www.aptos.com/jobs.