Editor's Note: Dave is a Marketing Director for Aptos, who also happens to spend a great deal of time walking. He walks approximately six million steps (3,000 miles) a year in an attempt to stave off the ravages of Father Time. The vast majority of those six million steps are taken in and around the sidewalks of suburban retail, where he conducts market research while attempting to improve his cardiovascular health. He recently agreed to share the most interesting of his observations with us here once a month.
October 3, 2018 was a warm, beautiful fall afternoon in Palm Springs. I was on vacation, walking the streets of retail in this kitschy, interesting and growing city in the middle of the desert, when I found it. At first I couldn't believe my eyes. After literally millions of steps, I may have finally found what I had been seeking for the better part of two years: a BOPIS Hero (a store that actually does buy online, pick up in store right).
I felt a thrill like I imagine Bigfoot hunters must feel when they see something they believe to be their elusive, mysterious quarry. Or how the first inhabitants of the Palm Springs area must have felt when they discovered the huge underground aquifer that brought water to their dry, desolate landscape.
Futility, False Promises and Frustration
Because believe me when I tell you I have been searching and searching for a BOPIS Hero. I have shopped, I have ordered and I have picked up dozens of online orders. Each time hoping for an experience to make me feel like the store was grateful for not only my business, but also for the time and energy I invested to come to the store to pick up my purchase. And before October 3, my search had been mostly an exercise in futility, false promises and frustration.
Until that fateful day, it was clear to me that most of my store pick up experiences had failed to truly include the customer in the design and execution of the experience. The list of experiential shortcomings I encountered – even when all the logistics were executed well – is long. Communications were always inconsistent and often nonexistent. Many times, I was forced to wait in return lines to pick up my purchases. Clear signage was the exception rather than the rule. In cases where there actually were clear, easy-to-find signs, those signs pointed me to dark, dusty corners of the store where associates were nowhere to be found.
RELATED: New Aptos iPaper The Omni-Channel Fulfillment Blueprint
So with those experiences as backdrop, I was interested to see how Lowe's would treat me as I walked into the parking lot of their Palm Springs store to pick up an order for a few interesting wall tiles that my hometown store didn't carry. And that's when I saw them: three bright blue signs reserving prime parking spots for in-store pickup customers. I was definitely interested to be sure, but still cautious. I had been fooled by signs like these before.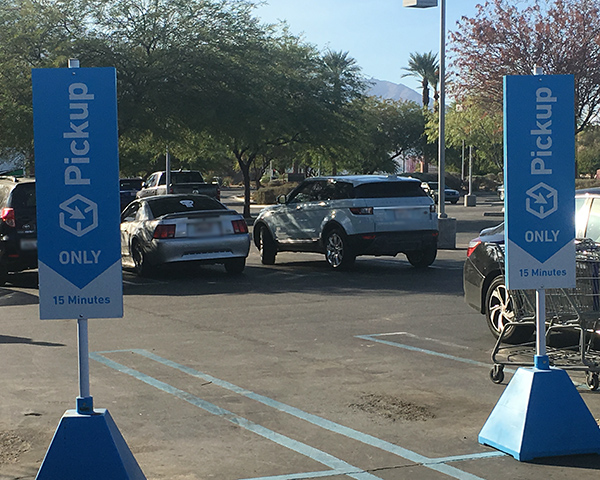 The Search Continues...
Nonetheless, intrigued by those three signs gleaming in the bright desert sun, I proceeded onward. I tentatively walked toward the entrance, where I was immediately confronted by a huge sign, in that same bright blue color. It was helpfully pointing me directly to the entrance nearest the order pickup location.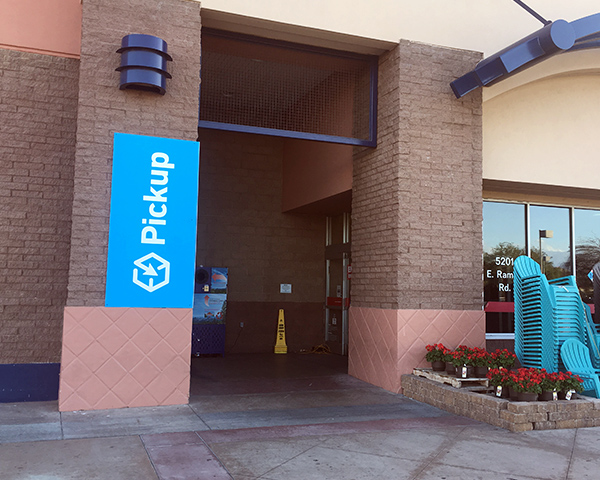 Could I have possibly found an elusive BOPIS Hero? Too soon to tell, but this was another good sign, to be sure.
As I entered the store where directed, I instantly saw a desk dedicated to helping store pickup customers. It, too, was marked in the same bright blue colors, which made it easy to identify. Its sole purpose in life? To ensure my pickup experience was easy and efficient.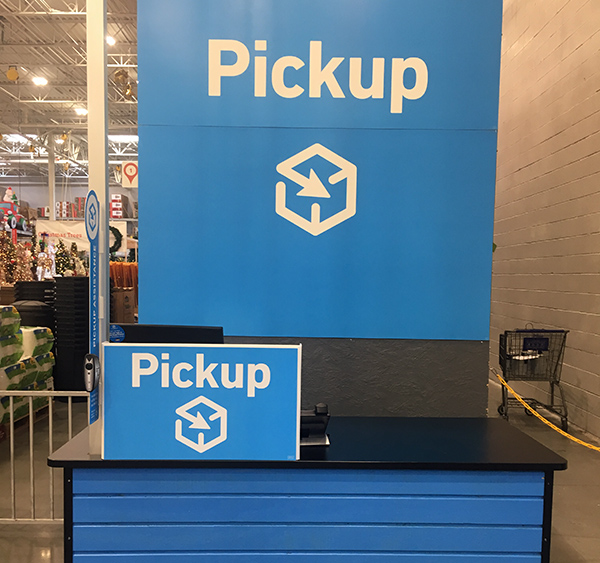 Color me impressed.
However, my growing excitement quickly evaporated. Alas, despite every good intention, there was no one working the desk. Nary a blue vest in sight. Of course there wasn't anyone there, I thought. Because that's how these things always work. I resigned myself to the idea that I would, as I had so many times before, be forced to search for assistance. I would once again be forced to roam the long, lonely aisles of this cavernous store, desperately seeking someone to help me pick up my tiles.
Except this time I wouldn't have to roam, after all. Turns out all I had to do was just press a bright blue button. You see, someone at Lowe's decided to include a well-marked and easy-to-use buzzer that would dispatch an associate to help me pick up stuff I had already paid for. No waiting in the return line, no long walks to the back of the store. Just push a button.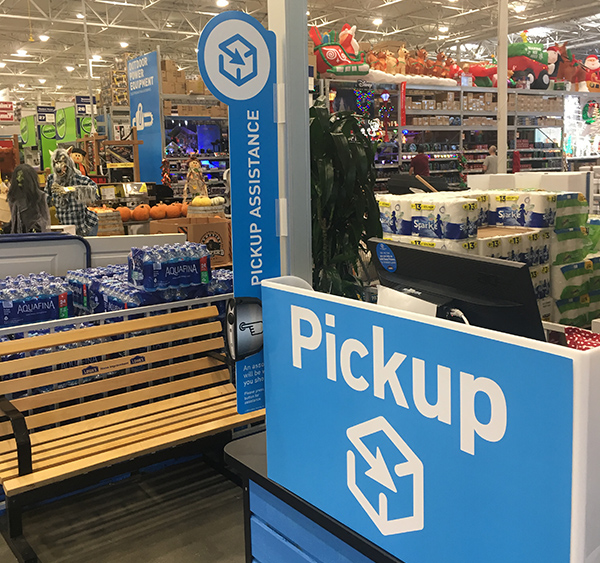 What a concept.
No Pain, All Gain
And sure enough, an associate arrived promptly, handed me my tiles, and I was on my way. No pain, all gain. The marketer in me was thrilled. Heck, the shopper in me was thrilled. Someone had obviously put careful thought into designing an experience that actually made a priority of people who make the effort to pick up their orders inside the store.
At long last, my million-step quest for a BOPIS Hero had been fulfilled; Lowe's had in fact become my hero. I had my tiles, of course, and I finally – finally! - found in-store pick up done right. But make no mistake: Lowe's had done more than just gotten it right.
This home improvement store had nailed it.