About the Author: Ryan Grogman is a managing partner at Retail Consulting Partners. RCP is an innovative management consulting firm enabling retail transformation. Ryan is a respected advisor in the retail technology industry. He specializes in developing technology strategies that align with corporate and customer objectives, along with technology selection and implementation projects for in-store, mobile, order management and e-commerce solutions.
A turbulent 2020 was followed by an explosive 2021, and it now appears that, despite some economic uncertainty, the retail industry is back on track with more consistent growth in the second half of 2022. And despite surges in digital commerce during the pandemic, physical stores are proving that they remain the dominant and preferred shopping channels for consumers.
Because of this, retailers have been targeting an increasing portion of their capital budget for store technology enhancements. With a lot of omni-capabilities implemented in recent years to help meet customer demand, attention is shifting back toward investments in core store systems. RCP's 2022 POS & Customer Engagement Report found that 60% of retailers indicated their top store system priority was POS software upgrades or replacements.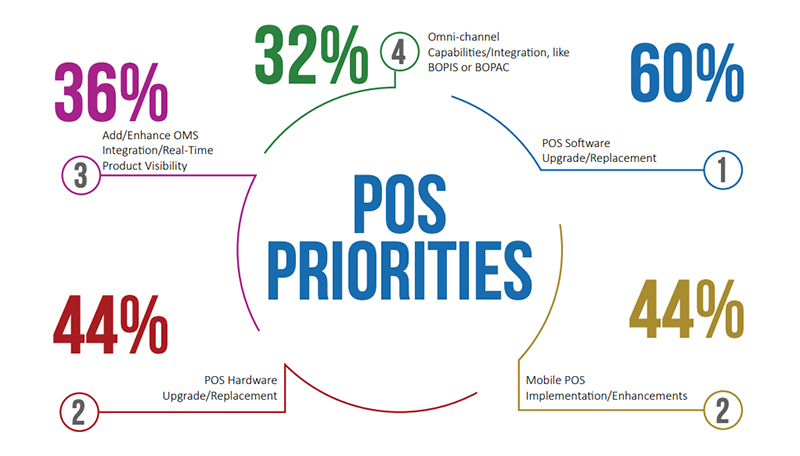 Digging a little deeper into the survey results, there are a couple of key reasons for this rise in this priority from years past. First, the average lifespan of a POS software solution in an enterprise retailer is approximately 7-10 years. There was a tremendous surge in POS platform upgrades in the 2010-2015 timeframe, resulting in a large number of retailers that are currently planning to upgrade and replace their POS.
Additionally, the rise of digital sales has driven the need for a modern omni-cart experience that extends to mobile and includes extended aisle and all flavors of pickup and return in the store on a single platform. When you couple these drivers with the fact that the normal cycle of POS replacements was largely put on hold in 2020 and 2021 as retailers tightened capital budgets, you have an even larger than normal amount of retailers prioritizing these initiatives in 2022 and into 2023.
Speaking of mobile, the pandemic saw a lot of retailers scrambling to quickly implement omni use cases without wholesale implementations of new systems. As a result, many deployed one-off mobile technologies that supported a BOPIS or BOPAC transaction but came with a disjointed customer experience and higher support costs. 2022 is seeing many retailers trying to untangle some of those decisions without disabling customer expectations, and a large portion of that work is being prioritized with enhancements and upgrades to mobile POS solutions.
Despite an uncertain market economy, there is no denying that physical stores will be a dominating presence for holiday shopping in 2022 and into 2023. Forward-thinking retailers are investing time and capital dollars now to stabilize and enhance their store systems to prepare for whatever comes next.
Download RCP's 2022 POS & Customer Engagement Report to learn more about the trends shaping retailer priorities.