Every year in the fall, Aptos kicks off a series of events called Thinking Retail Forums. These events are held in regions around the world, with a focus on taking global trends and bringing them into a local perspective.
This year, one of our stops was "Ten Blocks in Brooklyn," which offered a look at the Williamsburg neighborhood in New York and its incredible transformation into an epicenter of retail innovation. Whether you see it as "transformation" or the less desirable "gentrification" really depends on which side of the street you stand on – sometimes literally. But whether you choose to see it as "good" or "bad," the collision of raw authenticity and corporations desperate to find the essential ingredients of relevancy and scale them for mass markets makes for some very interesting retail experiences.
As part of our Thinking Retail NYC agenda, we took a guided walking tour of Williamsburg and explored several retail outlets that have mastered the art of experiential retailing.
[caption id="attachment_17691" align="alignleft" width="1400"]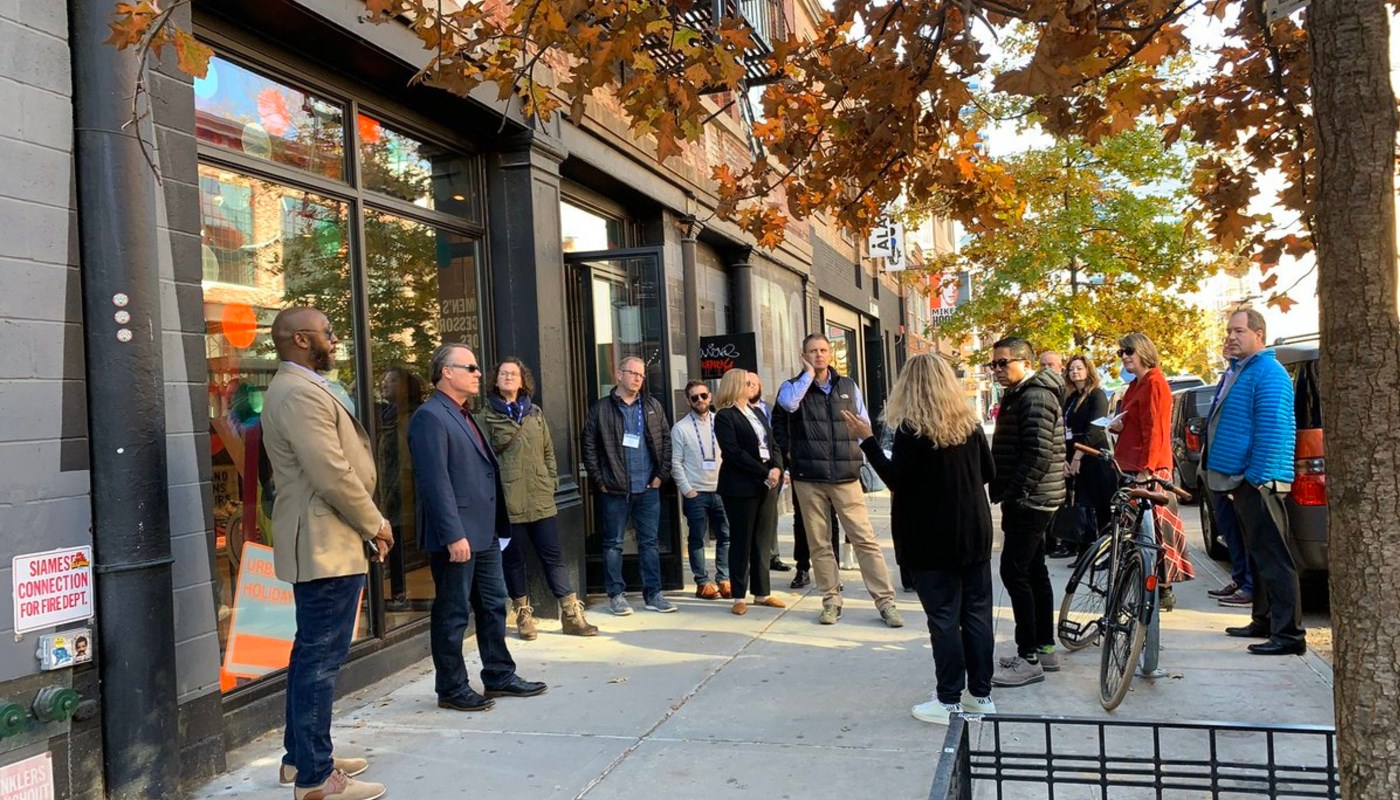 At Thinking Retail New York, attendees hit the streets for a guided walking tour of innovative retail concepts. The result was fresh air and fresh ideas![/caption]
The location that stood out the most for me on the tour was record store Rough Trade. They're a relatively recent addition to Williamsburg, having opened in 2013, though as always in the melting pot of New York, that actually means they are the US-based incarnation of an iconic British punk music store straight from London. Yes, that means racks of vinyl crossing multiple genres and disaffected staff who take fierce pride in ignoring the tour group off the street. Fair enough.
However, it also means a music venue in the back – a decent-sized one, almost as big as the sales floor itself. It means a bar – where there is a music venue, there will be booze. But it also means a café, a bookstore and two "branded" concepts in the store. While we were there, one concept featured very high-end graphite pencils. The other featured sustainable clothing. And there was something of a loyalty program, offering benefits like early access to concert tickets.
Rough Trade made an interesting choice in what went into their New York store. I'm not sure that you can get more iconic than London punk (I'm sure some of Rough Trade's staff might've perked up for that as an opening line of passionate discussion), but New York is pretty much ground zero when it comes to defining the punk genre. Rough Trade could have come to Brooklyn determined to distill the essence of NY punk and build a store around that concept. Instead, it chose to remain true to its founding principles, specifically the London angle.
We had the opportunity to talk to one of the founders of another Williamsburg independent retailer, Concrete + Water, which sells apparel, accessories and homewares. The company was founded by two long-term Williamsburg residents who had long sought an opportunity to celebrate the neighborhood they love, and stumbled upon retail as the way to do it. Their focus is a bridge between Manhattan sensibilities and the Brooklyn vibe – a living representation of the change that is busy rolling through the neighborhood.
One of the founders, JD Gluckstern, not only opened his store to our group, but joined us later on a panel to discuss innovation in the area. I asked him, should the time come to open another store in another location, would he want to keep the blend of Manhattan and Brooklyn that has made Concrete + Water successful, or would he want to localize to wherever he went next?
He was thoughtful as he answered, leaning more toward localization. He acknowledged that some of the magic the store brings to the community comes from sourcing unique products made by locals. Can you transplant Manhattan + Brooklyn to, say, Miami? You might be authentic in that regard, but would it resonate? On the other hand, you have to have the in-the-field intimacy with the neighborhood to sense its ebbs and flows, to understand which concepts (and local artisans and designers) can strike the right chord with locals – which means acknowledging what makes each location unique.
Now layer on top of that the need to do that at scale. Urban Outfitters and Vans, two major brands that have invested in the neighborhood, can possibly treat Brooklyn as a testing ground, experimenting with product mix, events, bars and more. But can you take that to every city? Profitably?
This, I think, will be the question for the next decade of retail. Every retailer has to think globally – their Instagram pages alone can ensure them global reach and followers, even if they're only one store. But it also means that they have a crucial decision to make – not with the 1,000th store, or even the 100th store – but starting with store #2. At that point, retailers must already figure out if they are going to be Rough Trade and stick to their core brand promise no matter where they go, or if, possibly like Concrete + Water, they are going to bring a formula for neighborhood intimacy to every neighborhood where they open a store. And in the meantime, we all will continue to watch retailers like Urban Outfitters to see if they can take their core brand promise – what got them to hundreds of stores in the first place – and localize it without muddying the waters of their brand.
There's no right answer here. Which is part of what makes it so interesting.