If I've learned one thing in my 25-year career, it is that acquisitions should be evaluated not only on what can be gained from an acquired company but also what can be learned.
With that in mind, I find myself reflecting, celebrating and, at times, marveling about how much has been gained – and learned – from Aptos' acquisition of TXT Retail. Above all, I feel a sense of gratitude for the world-class colleagues and customers who have joined the Aptos family and for the best-in-class planning, PLM and supply chain solutions that are now part of Aptos' Singular Retail portfolio.
It is with a deep sense of gratitude that we now fully encompass the TXT Retail brand into the Aptos family. As we celebrate our one-year anniversary of the acquisition, I am proud to say we have successfully united our systems, cultures, colleagues, products and processes.
It is now time to unite our brands.
Going forward, we will go to market under the Aptos brand. All TXT Retail products now have Aptos naming conventions (e.g., Aptos Merchandise Financial Planning) and the TXT Retail website has been merged into www.aptos.com.
While the brand positioning may now solely reflect Aptos, I cannot state strongly enough how vital aspects of TXT Retail have been woven into the very fabric of our business – who we are, what we offer and how we operate. The Aptos of today is a different and better Aptos than it was a year ago before our joining with TXT Retail.
I'd like to share with you just a few of the strengths and accomplishments resulting from Aptos + TXT Retail and how the incorporation of TXT Retail into Aptos will positively impact customers, colleagues and the market for many years to come.
Better Delivery Experience With a Global Solution Center
One of our first takeaways when evaluating the TXT Retail business was an appreciation for its Global Solution Center model in Milan. The Global Solution Center ensured that TXT Retail could offer customers consistent, repeatable and scalable software deployments by centralizing its professional services resources, while still offering regional delivery and account teams to maintain local market nuance and expertise.
When combining our organizations, one of our first decisions was to replicate this Global Solution Center model – and to double its size. We've launched a second location – in Montreal – to greatly expand the professional services resources that comprise the Global Solution Center. As a result of significant investments in this area, our customers will feel the full power of Aptos' global professional services organization, with each customer gaining from the repeatable processes, best practices and the expertise that comes from one global services organization serving over 1,000 retail brands.
[caption id="attachment_13889" align="alignnone" width="640"]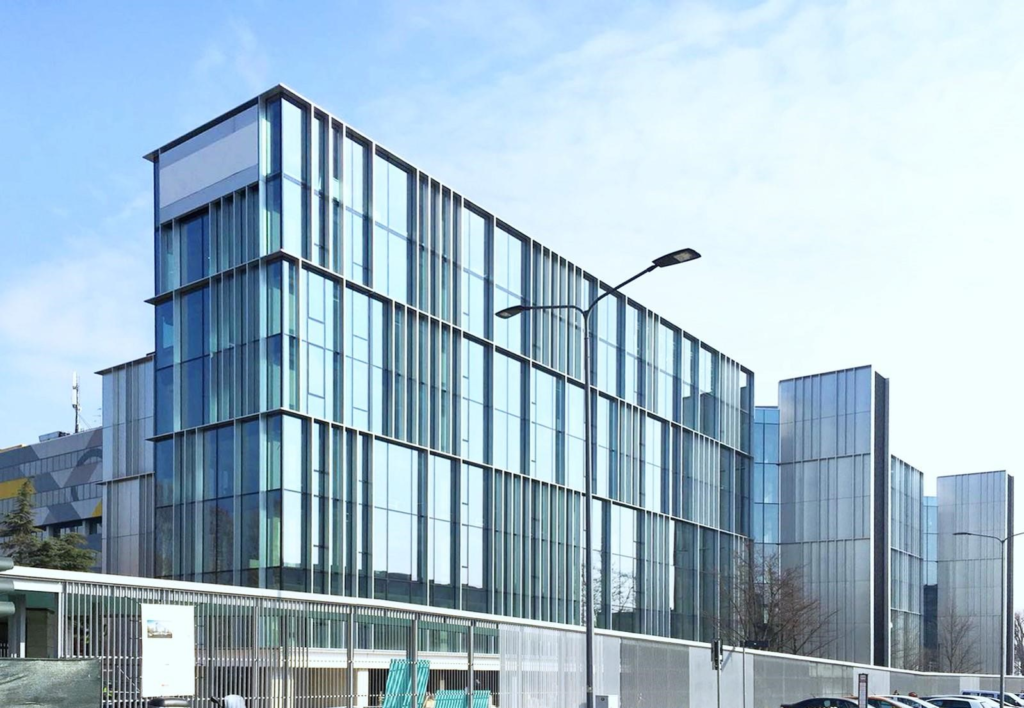 Here's a look at our new, modern office in Milan that is home to a large number of our professional services colleagues who are part of the Aptos Global Solution Center.[/caption]
An End-to-End Integrated Product Portfolio
From a product perspective, combining Aptos' best-in-class customer engagement and inventory management solutions with TXT Retail's best-of-breed merchandise lifecycle management suite was, by all accounts, an easy decision.
With the acquisition, Aptos has significantly advanced its mission to be retailers' end-to-end technology partner for omnichannel solutions; Aptos' Singular Retail suite can now support brands and retailers from product creation through planning and allocation to customer sales and service.
Through tireless devotion from our product management and development teams – and with a level of collaboration I've yet to see in bringing two software companies together – we've already achieved a considerable level of integration between the Aptos and TXT Retail products, including:
Merchandising and MFP, PLM and SCM Integration. The native integration between Aptos Merchandising and TXT Retail products now includes standard integration with Merchandise Financial Planning, PLM and Chain. The robust integration includes all metrics and dimensions required for facilitating streamlined and seamless retail business processes.
Integration and MFP Analytics. The creation of Merchandise Financial Planning specific metrics, operational reports and historical attributing capability for planning seasons will enhance user capabilities through reporting within plans historically and in future planning.
Integration Analytics and Open-to-Buy. The creation of a connector with Merchandise Financial Planning will create a singular seamless integration within Aptos, which will allow users to evaluate financial open-to-buy statuses with a comprehensive view of planning from an in-season perspective in Analytics.
While the "bread and butter" integrations are now complete, there's more on the horizon. Our product teams, alongside our customers, industry experts, partners and others, will continue to innovate new ways to bring the power of Aptos + TXT Retail together. Some of the questions we're asking include: How can customer data from over 250 million shoppers via Aptos CRM better fuel planning decisions? Can our systems know what customers want to buy even before customers do? And when it comes to orders, how can the power of Aptos Enterprise Order Management and Merchandise Lifecycle Management be harnessed so we optimize orders even before they are placed? These are big questions – industry-shaping questions – but they're the sorts of conversations we're exploring daily with Aptos Labs and our product teams.
With Aptos' commitment to increasing R&D by 70 percent over the next few years, you can expect we'll have many answers and innovations brought to market both in the short and long term.
A Truly World-Class Customer and Colleague Base
I've saved the best for last: the people. It has been my utmost pleasure to get to know so many of our colleagues and customers who joined through the TXT Retail acquisition. We now have more than 1,300 retail specialist colleagues serving customers in 55+ countries.
The TXT Retail colleague base – their devotion to the products, to the merchandise lifecycle and to the customers – is inspiring. And their dedication shows; the TXT Retail customer base is an engaged, collaborative group of brands that reflect the "who's who" in global retailing.
For heritage TXT Retail customers I've yet to meet, I hope to do so soon and look forward to adding a few more stamps to my passport to make that happen. I also encourage you to join us at our Engage conferences and our Thinking Retail Forums, and to connect with us on our social media platforms. You can also visit our "Trending" page for a look at the latest happenings from the Aptos community around the world.
I sincerely hope our customers, colleagues and the market are as excited about the future of Aptos as I am and can take a moment to celebrate all that we've accomplished in the past year.
Regards,
Nicole Crowe, Marketing Leader, Aptos